Dumpster Services in Warren, MI
When it is time to get a big project done at home or with your business, how you will handle the trash is one of the first things you worry about. At Delta Hauling & Disposal Services in Warren, MI, our dumpster services are the answer. It's a phone call for you, and we take care of the rest. Our dumpster rental company has been serving Wayne, Oakland, and Macomb counties for over 15 years with competitive and affordable dumpster services.
Why Choose Our Dumpster Pickups and Drop-offs
When you have a renovation or cleanup project, you have a budget in mind. We don't just know that; we operate our business with the mindset that we need to meet that need.
We have the size you need at the price that you want. Call us today to speak with one of our professionals in service. Timeliness and affordability are the answers you will get today. That's why you'll choose us.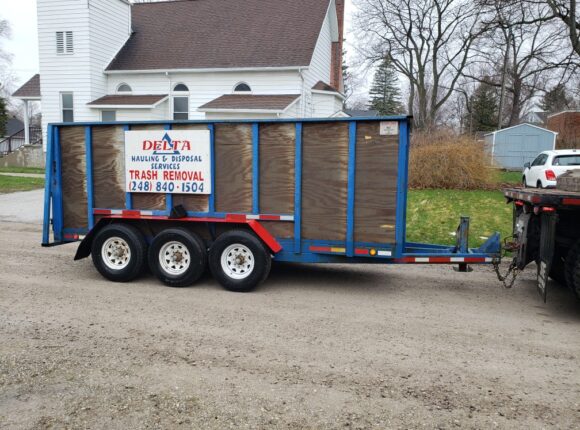 Product Lineup
At Delta Hauling & Disposal Services, we know that every project is different. It is easy and affordable to get the bin you need for your project. We offer roll-off dumpsters and commercial dumpsters for every project, and additional services for those moments in life when a lot of trash needs to be hauled.
Whether you need a bin immediately or are booking it for the next season's project, we are here for you.
Our services:
Rubber Wheel Dumpsters – 10 yards and 20 yards
Residential Dumpsters– estate cleanouts, remodeling and interior, and exterior renovations, trash hauling
Commercial Services – Your business cleaned up your way
Fire Restoration Services – We'll help you get the worst out of the way immediately.
Home Builders – your dream cleaned out your way
Choose Delta Hauling & Disposal Services in Troy, Michigan
When it's time to take out the trash, sometimes the project is a little too big to do on your own. That's what we do at Delta Hauling and Disposal Services. We serve the Warren, MI area with exceptional residential and commercial dumpsters, trash hauling, and more. Our rubber wheel dumpsters fit every project.
Timeliness and affordability are your first questions. We have the answers you need. With over 15 years of locally-owned experience in dumpster services in Troy, Michigan, Delta Hauling & Disposal Services offers superior professionalism in service and a hassle-free experience from your first phone call. Contact us today to get started!